Credits & Copyrights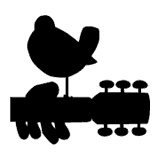 Inspiration from Linda & Jamie Kornfeld
without whose love & good vibrations there
would have been no purpose in doing the festival.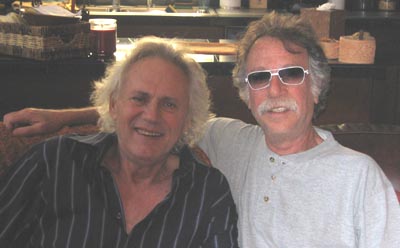 "Special thanks to my very old friend
Victor Kahn who has been with me on
this long strange journey since years before Woodstock!
He personally designed my 40th book cover & created this website."
Additional thanks to artist Jim Warren for the use of
his visionary paintings reproduced on this website.
www.jimwarren.com
Kudos to all the great photographers mentioned herein
whose incredible pictures documented the
entire Woodstock Music Festival.
"We're All Playing in the Same Band"
written at and about Woodstock by Bert Sommer
is the song playing in the background on this credits page.
www.bertsommer.com

"America" also sung by Bert Sommer at the
Woodstock Festival plays on the intro page and
both songs were produced by Artie Kornfeld.
(with musicians booked by Artie Kaplan and engineered by Shelly Yakus)
All the old music on this website
was tracked down by Les Peterson.
Gratitude to all those others
(you know who you are)
not mentioned in this
recollection of events.
This website is dedicated to
the memory of Irving Kornfeld
who passed away September 2, 2006
(Irv was the father of the Father of Woodstock!)
Before Obama there was a grassroots campaign to
elect Woodstock's Artie Kornfeld as President in 2008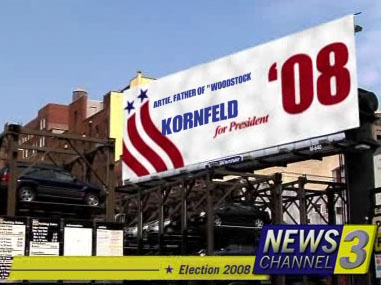 The Legal BS
Copyright ©2004-2015 by Artie Kornfeld & Victor Kahn. All rights reserved.
No part of this website can be reproduced, stored in a retrieval system, or transmitted by any means, electronic, mechanical, photocopying, recording, or otherwise without written permission from Artie Kornfeld. No copyright infringement or patent liability is assumed with respect to the use of the information contained herein. Although every precaution has been taken in the preparation of this website, the publisher, author and graphic artist assume no responsibilty for errors or omissions. Neither is any liabilty assumed for damages resulting from the use of the information contained herein from Artie's personal recollections.

For more information or personal contact please
send an email to this address: rtkornfeld@aol.com

Yes, you may send this entire website directly to your friends
by clicking this special email link

These are Artie's links to his facebook, myspace & twitter pages:
HOME / INTRODUCTION / HISTORY / EARLY DAYS / WOODSTOCK / RESUME / CONTACT