The Early Days:
by Artie Kornfeld in his own words!

"After polishing and Simonizing cars back in NY during the summer of 1956 I got a guitar. I learned a few simple chords from a friend of mine who was a folk singer and those chords were all you needed in those days to sing just about any song. I started out with 'Michael Row the Boat Ashore'. I got a Webcore tape recorder and put down the guitar track and then I'd sing the lyric over it. I'd actually do songs like 'La Bamba' and 'Oh, Donna', but not very well.
Good connections brought me at the age of 16 to GAC (a big agency for rock) that signed me to a contract and took me into Broadway Sound to do my first recording in a real studio. At 16 I was fortunate thru luck to experience the unbelievable, and work with many of my heros.. To be detailed in my upcoming book. Such details will include the magic of my working relationships and friendships with the likes of John Lennon, Paul McCartney, John Sebastion, The Beach Boys, Paul Simon, Neil Young, Dion, etc. I could go on and on, but this site is about Woodstock.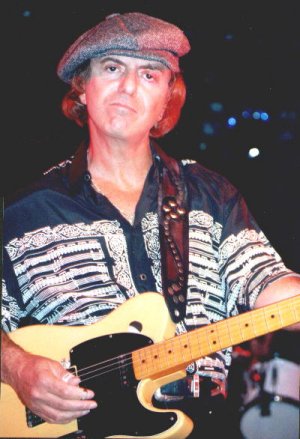 When the first Jay who sang 'She Cried' for Jay and the Americans left the group, I got to audition for them. Jay Black got the job over me, became the lead singer and sang 'Come a Little Bit Closer' and all the other hits they had. I never even thought that years later I would be writing songs for Jay and the Americans!
Another good story of those same times... I started going to Adelphi College and transferred to American University. There was this fellow student who I got to become friends with who would always be sitting in the same corner with her friends singing folk songs. Cass Elliot was her name, The Mamas and the Papas became her fame.
The Brill Building: Years spent learning & experiencing my craft from the major hitters in the pop music industry: Lou Adler, Charles Koppelman, Don Rubin and Don Kirschner of Screen Gems Music Publishing. It was in those hallowed halls writing rooms that I really learned "Who put the Bomp in the Bomp Sh Bomp" with Barry Mann, Carol King, Gerry Goffin, Neil Sedaka, Toni Wine, Cynthia Weil and many others. All personal memories with my fellow writers will be detailed in my book.
I think it was about 200 demos later in 1962 when I got to meet another of my idols, Jan Berry of Jan & Dean. Jan came to NY to perform in another Alan Freed Show and we met before his show at the Hotel St. George in Brooklyn. The story of my writing with Jan Berry and Brian Wilson of the Beach Boys brought about many hit songs and a long and dear friendship.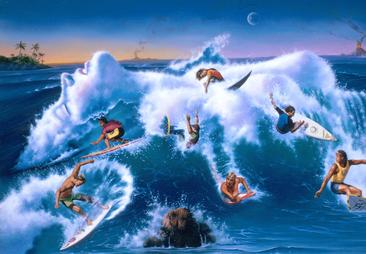 © 2004 painting by Jim Warren
"My collaboration with Jan Berry went as far as composing all but one song on the 'Little Old Lady from Pasadena' album as well as writing with Jan and Brian Wilson of The Beach Boys the major hit 'Dead Man's Curve'. Jan & Brian were musical geniuses and had the formula down for making hit records... I think it was rubbing off slightly on me! This was also about the time the writer Steve Duboff crossed my path rather accidentally while at Screen Gems. We wound up getting together and writing many hits including 'The Pied Piper' and 'The Rain, The Park and Other Things'. I believe we must have had 65 hit songs on over 100 albums by major artists. You could say I was in good company by now!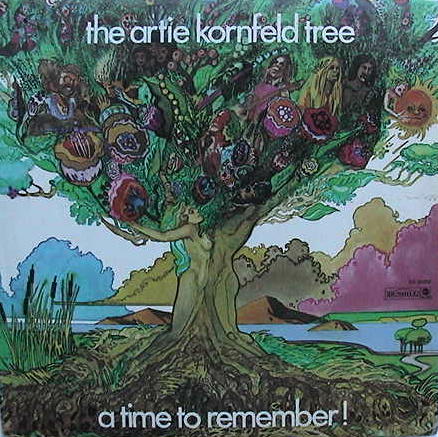 So there I was, somewhat of a success, but still looking for the big wave. Charles (my mentor) had turned me on to a new group called 'The Lovin' Spoonful' that everybody else in town was turning down. The night I saw the spoonful for the first time, I was sitting with Phil Spector and Bob Dylan. My experience with both of these men who later made music history, was another of the magical journeys I was fortunate to have given to me, just by being me…
We could go on here forever, but my early days ended in 1967 after writing & producing the Cowsills when Charles Koppelman & Don Rubin (who had a production deal with Capitol Records) introduced me to Capitol's President Alan Livingston. I was hired on the spot as the first Vice President and Director of Rock Music at any company. "Rock & Roll was here to stay".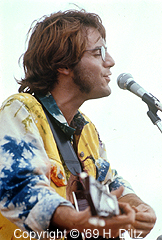 Author's note: My John Sebastian friendship has stood the test of time. On June 23, 2004 I sang 'Do You Believe in Magic' with him at NY Governor George Pataki's celebration of the new Woodstock Museum at a private party in the Governor's Mansion in Albany, N.Y. Melanie also sang for the Governor and honors were bestowed on Mike Lang and myself.