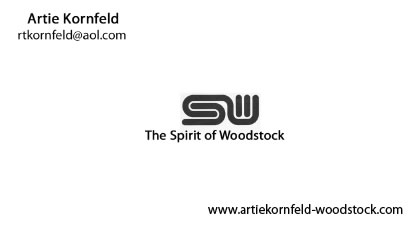 Artie Kornfeld ~ music & adventures
Delray Beach, Florida U.S.A.
email: rtkornfeld@aol.com
website: www.artiekornfeld-woodstock.com
ARTIE KORNFELD
CREATOR & PROMOTER OF THE "WOODSTOCK MUSIC & ART FAIR" 1969
.
Solely responsible for the historic record & Warner Brothers movie contracts
Hired Michael Wadleigh to film the 1970 Academy Award winning movie.
Known world wide as "The Father of Woodstock" the name given to him by the Woodstock Preservation Alliance.
Composer, Publisher, Producer, Manager, & Promoter
First Vice President of Rock Music at Capitol Records (or any label)
Summary of 40 + years experience: Composer, publisher, producer, manager and promoter of over 100 Platinum projects
Four BMI Million Performance Awards
Eight BMI Awards as a Writer & Publisher
As A&R VP (3 major labels) and as an Independent Producer played a major role in the
"top of the charts" success of some of the top rock artists of all time.
Manager and Creative Director of the band "Survivor"
Took unknown band to the top selling single of all time "Eye of the Tiger"
Co-Producer & Manager with Don Rubin of the band "Felony"
who's #1 alternative record & Top 30 hit single and # 1 dance record in the U.S.
"The Fanatic" & thru Artie's guidance to the late Rick Carroll (KROQ) which led to the explosion of alternative music & radio.
Consultant to, & protégée of his industry mentor, icon Charles Koppelman EMI (7 yrs) Marketing Director for The Entertainment Co & Screen Gems Music
As independent promotion director, became a "must have" for artists because of successes for Neil Young, Tracy Chapman, Survivor, etc.
Public Recognition- TV Interviews- CNN ,VH1, LATE NIGHT SHOW, ET,
As performer with Sonny & Cher "I Got You Babe Tour" as "Changing Times"
Radio & Press over 300 interviews
Author of the new book of his memoirs can be purchased at Amazon.com or electronically here in eBook format
http://itunes.apple.com/us/book/the-pied-piper-of-woodstock/id382365818?mt=11
...and still producing new rock bands!
A special shoutout to Vin, the man & his music ~ as well as the entire band V
**********************
Artists charting with Artie Kornfeld compositions:
ARTIST, SONG & FACTS
The Angels, "I Adore Him", Top 10 Billboard
The Bangles, "How Is The Air Up There", # 1 in 7 countries
Bert Sommer, "We're All Playing In The Same Band", Top 40 single and producer of his 3 LP albums
Oscar Benton & Artie Kaplan, "Bensonhurst Blues", # 1 in Europe 3 times, Alain Delon Movie "The Skin of a Cop"
Jerry Butler & Betty Everett, "We Need Each Other", Top 10 Album Duet
Freddie Cannon, "Lookin For Fun", Billboard top 60
Changing Times, "The Pied Piper", Writer & Producer, Top 50 Single - USA
Cher, "The Pied Piper", Top 5 Album
Crispian St.Peters, "The Pied Piper", Top 3 Worldwide
The Cowsills, "The Rain,The Park & Other Things", (aka "I Love The Flower Girl"), Producer and # 1 Worldwide
The Cowsills, Album written & Produced A.Kornfeld, Platinum Single, Gold Album
The Cowsills, "We Can Fly", Top 10 Single
Al Hirt, "We Can Fly - Up Up & Away" Medley, #1Jazz Single Worldwide, #1 Adult single Billboard
Johnny Crawford, "Judy Loves Me", written & produced with Jan Berry, Top 40 Billboard
Connie Francis, "Turn Another Page", Top 40 Billboard
Gene Pitney, "Turn Another Page", Top 60 Billboard
The Hullabaloos, "Did You Ever", Top 5 Europe, Top 60 USA
Jan & Dean, "Dead Mans Curve", Written with Brian Wilson & Jan Berry, #1 USA, Top 10 –Aust/NZ/Europe
Jan & Dean, "Little Old Lady From Pasadena" LP, co-writer of all except title song, Top 10 Album Worldwide
Jay Black & The Americans, "She Doesn't Know It", B side hit single, "I hear Trumpets Blow", Come A Little Bit Closer LP (Top 10)
Wayne Newton, "If I Only Had A Song To Sing", Top 60 Billboard Pop & Country
Tony Orlando, "She Doesn't Know It", Last solo single before "Tony Orlando & Dawn"
Gary Lewis & The Playboys, "When The Parties Over", Top 40 Single
The Tokens, Three Songs on the album "Come A Little Bit Closer", Top 10 Album Worldwide
Reparperata & The Delrons, "And The Music Went On & On", "How Can You Tell", charted in Billboard
Minnie Ripperton & The Rotary Connection, "Aladdin", Top 50 in Billboard, opened the door that led to the hit "Loving You"
Crispian St. Peter, "Aladdin" (follow up to #1 Pied Piper), Top 10 Europe
The Shirelles, "Tonight You're Gonna Fall in Love With Me", Top 20 Pop Billboard, Top 5 R&B
Dusty Springfield, "Guess Who", Top 40 USA, Top 20 Europe
Bobby Hebb, "Some Kind of Magic" Follow-up to #1 "Sunny", Top 40 Billboard
Woody Allen, "Chicken Of The Sea", only time Woody Allen ever sang on a record!
...MANY MORE (too many to list) including 4 movies
Artists signed, promoted or developed by Artie Kornfeld:
Sheryl Crow
Sarah McLachlan
Jack Johnson,
Bruce Springsteen
Tracy Chapman
Melissa Etheridge
Extreme
Edie Brickell
Vanilla Ice
Kix
Sass Jordan
Nuclear Valdez
Queensryche
Depeche Mode
Felony
Billy Joel
John Fogerty
Santana
Steve Perry
Kiss
Neil Young
Bonnie Raitt
Tom Petty
Survivor
Pink Floyd
Aerosmith
The Band
Blondie
Davy Jones
The Left Banke
Bert Sommer
Bob Seger
Triumph
The Cowsills
J. Giles Band
Roger Miller
Linda Ronstadt
Alanis Morissette
Lou Rawls
Mandrill
Jimmy Castor
George Segal
Tragically Hip
April Wine
Joe South
Wilson Phillips
Alice Cooper
Paul Cotton
Michelle Shoked
Joe Cocker
ZZ Top
Marshall Tucker
Greg Allman Band
Ratt
Vixon
Steel Heart
Asia
TNT
Quiet Riot
Eddie Money
Patti Griffin



HOME / INTRODUCTION / HISTORY / EARLY DAYS / WOODSTOCK / CREDITS / RESUME / CONTACT